Coen Vermeeren TU Delft
Coen Vermeeren, docent Lucht- en Ruimtevaarttechniek geeft les in Ufologie aan de TU in Delft. Het volledige college is online te volgen in 2 delen. Taal: Nederlands. Voor iedereen die hier nog niks vanaf weet is dit de basis. Je bent dan ook echt helemaal op de hoogte gelijk. Zelfs het Disclosure Project komt aan bod en het bestaan van verschillende rassen.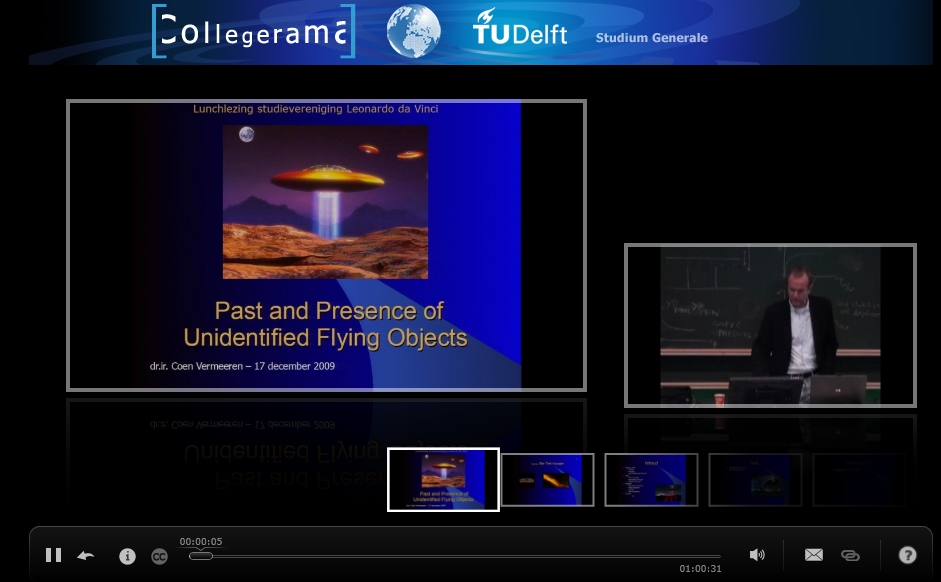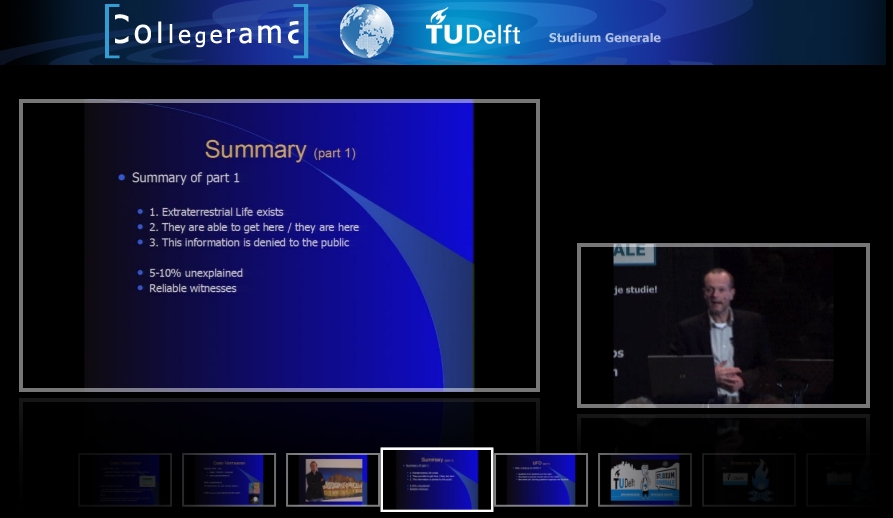 Beschrijving: "UFO's worden in de volksmond nog gemakkelijk terzijde geschoven als onzinnige fantasieën, maar feit is dat er steeds meer betrouwbare bronnen zijn die 'iets' gezien hebben. Wat voor 'iets'? Tja, dat weten wij nou net niet!
Toch wil Coen Vermeeren, docent Lucht- en Ruimtevaarttechniek dit soort vragen stellen. Welke feiten hebben we precies? Hoe kunnen we feiten van fictie onderscheiden? Wie weet wat? Wat zijn de verwijzingen in het verre en recente verleden naar UFO's? Hebben we dan een beeld wat 'ze' hier komen doen? Wat zou jij doen als je door de ruimte en tijd kon vliegen? Kunnen we iets slims zeggen over de technologie die 'ze' gebruiken? En ja, heb jij al een UFO gezien? Of zijn er goede redenen waarom jij ze nog niet gezien hebt?"
Extraterrestrial life and World Government Policies
"Video of presentation by Dr Michael Salla on extraterrestrial life and world government policies at the Exopolitics Congress 2012 is now available for free online. The Congress was held in Prague, Czech Republic from May 11-13, 2012, and was organized by Exopolitika Czech Republic and promoted by the non-profit organization Goscha.
This presentation gives an overview of national government policies on extraterrestrial life. Presentation begins with a popular typology of extraterrestrial civilizations and proposes a motivation for their visitation in terms of how thermonuclear weapons may interfere with the propulsion systems of advanced civilizations in the vicinity of our planet and/or space time continuum. Presentation then focuses on how international responses to visiting extraterrestrials has been coordinated by governments and select global institutions, such as the Bilderberg Group, in the economic and political spheres. Military coordination by NATO member states in implementing shoot to kill orders against UFOs is examined, as is a coordinated response to extraterrestrials among us. Finally, a number of global initiatives are examined including the 1978 initiative by Sir Eric Gairy, Prime Minister of Grenada, to have the United Nations study extraterrestrial life; and the scientific impact of exoplanets being discovered in the habitable region of different solar systems."
https://www.youtube.com/watch?v=gH_afQDlGJ0
Bron: news.exopoliticsinstitute.org
Black Box UFO Secrets
"Since the earliest years of man flight, pilots and astronauts from around the world have encountered UFOs high in our skies and beyond.
The History Channel's Black Box UFO Secrets reveals for the first time the cockpit and control tower audio recordings of pilot and astronaut confrontations and sightings of unidentified flying objects high in our skies.
From a detailed account of one of the very the first reported pilot case – the Arnold case in 1947 – to recent recordings over New England and Texas and NASA recordings and video from 2005, the programme features interviews with pilots, witness and experts, including UCLA's Joseph Nagy, actor Ed Asner, and pilot/UFO researcher Don Berliner."
https://www.youtube.com/watch?v=0vIePMgtjT4
OZ Encounters - UFO's In Australia
"OZ Encounters is the remarkable eye-popping one-hour documentary that features extraordinary UFO sightings and encounters. The result is an amazing cross-section of case studies from all walks of life: farmers, bank managers, wedding photographers, nurses, doctors, children, housewives. These people's experiences range from multiple sightings and encounters to abductions. OZ Encounters takes a non-judgmental approach to the accounts, providing a truly impartial Australian perspective on this fascinating subject which is bound to stimulate public consciousness. The film incorporates people presenting their stories in their own words with the latest in 3-D animation and exciting dramatizations of their experiences. OZ Encounters ... unbelievable stories told by the ordinary people whose lives will never to be the same again."
https://www.youtube.com/watch?v=Y2wfPHU9Ihw
Best UFO Cases Caught On Tape
"An unidentified flying object, often abbreviated UFO or U.F.O., is an unusual apparent anomaly in the sky that is not readily identifiable to the observer as any known object, often associated with extraterrestrial life.
While technically a UFO refers to any unidentified flying object, in modern popular culture the term UFO has generally become synonymous with alien spacecraft;[1] however, the term ETV (ExtraTerrestrial Vehicle) is sometimes used to separate this explanation of UFOs from totally earthbound explanations."
The day before disclosure
"A documentary about the UFO/Extra Terrestrial presence on earth. Evidence gathered the last 60 years, from all over the globe, and in numbers by hundred thousands, point to the undeniable fact that we are not alone and never have been alone. The Extra Terrestrial presence in our world is no longer a question of IF, but rather a question of WHO, WHY and FROM WHERE. Air pilots, astronauts, radar personnel, flight controllers, military officials, security personnel and thousands upon thousands of eyewitnesses confirm that the ET and UFO phenomena are real.
A look upon remains from our ancient history tells the same. And the new sciences within quantum physics and cosmology defines a new concept of reality where intelligent life in the universe is most likely predominant, appearing in abundance, – a reality where space travel between stars and galaxies has no theoretical barriers.
But the Greatest Story in Human History is still keep a secret by those in power. Could it be that this system of secrecy now has grown to a size where it can no longer be contained? There is a growing notion that the bubble is about to burst, and that we are now in fact living the last days of the old world! The implications of a falling curtain are beyond everything humankind has ever experienced!"
https://www.youtube.com/watch?v=tf-BzaeKSbc
Officiele website: newparadigmfilms.squarespace.com
Close Encounters - Proof Of Alien Contact
"This documentary examines whether UFOs are real. It examines over 250 amateur video clips, evaluates several recent revelations about Roswell, and examines footage of the removal of an alien implant."
https://www.youtube.com/watch?v=6oFxgM80Pl8
I Know What I Saw
"I Know What I Saw, a documentary guaranteed to change the way we see the universe. Director, James Fox assembled the most credible UFO witnesses from around the world to testify at The National Press Club in Washington D.C.: Air Force Generals, astronauts, military and commercial pilots, government and FAA officials from seven countries tell stories that, as Governor Fife Symington from Arizona stated, "will challenge your reality".
Their accounts reveal a behind-the-scenes U.S. operation whose policy is to confiscate and hoard substantiating evidence from close encounters to the extent that even Presidents have failed to get straight answers. I KNOW WHAT I SAW exposes reasons behind government secrecy from those involved at the highest level."
https://www.youtube.com/watch?v=PIeGeE0uDJg
Deep Sea UFOs
"A detailed examination of the little-known phenomenon of USOs, or "Unidentified Submerged Objects", an advanced type of UFO that can operate just as efficiently in water as in the atmosphere. These supposed otherworldly vessels have been reported, some believe, as far back as ancient Egypt. Others believe that USOs were reported by Alexander the Great and Christopher Columbus, and might even involve the lost city of Atlantis. Highlights include the 1967 "Shag Harbour Incident", a government-documented USO crash off the coast of Nova Scotia, Canada, and a trip to the area around Laguna Cartegena in Puerto Rico, a reported hotbed of USO activity."
https://www.youtube.com/watch?v=-NlamQRI3bg
Out of the Blue
"The films producers traveled around the world to investigate some of the most famous UFO events on record. Through exclusive interviews with high-ranking military and government personnel, this award-winning film supports the theory that some UFOs are of extraterrestrial origin.
This film features Governor Fife Symington, Astronaut Dr. Edgar Mitchell, Russian General Leonid Aleviev, President Jimmy Carter, Cosmonaut Major General Pavel Popovich, UK Admiral Lord Hill Norton, Physics Professor Dr. Brian Greene, President Gerald Ford, Astronaut Colonel Gordon Cooper. White House Chief of Staff John Podesta, and many more. Presents an International Scope, Quality Testimony, and Scientific Perspectives. OUT OF THE BLUE provides a Definitive Investigation of the UFO Phenomenon."
https://www.youtube.com/watch?v=cYPCKIL7oVw
Meer video's van deze makers op Ufo Tv You Tube kanaal
Fastwalkers Files Disclosure - A UFO Documentary
"Fastwalker" is a code word created by NORAD (North American Air Defense Command) to classify (UFOs) unidentified flying objects which approach our Earth from space and enter our atmosphere. It has been reported that from its subterranean facility deep inside Cheyenne Mountain, Colorado, USA, the Air Force NORAD facility tracks a rough average of 500 of these "Fastwalkers" each year.
For the first time, Fastwalkers in a feature length documentary form discloses information you were never meant to know. Amazing Fastwalker UFO photos and Fastwalker footage gathered from around the world that you were never meant to see. Never before has there been such a wealth of information presented by such unbiased experts who focus on providing a "World View" of what is really happening on planet Earth, rather than what "we are told is happening."
https://www.youtube.com/watch?v=8SQUbRTI5Ag
UFOs: Seeing Is Believing
"UFOs: Seeing Is Believing is a two-hour American television special documentary film that aired on ABC on February 24, 2005. The program is narrated by Peter Jennings and features UFOs. It was produced by PJ Productions and Springs Media for ABC News"
https://www.youtube.com/watch?v=aMGdNC45-Vs
UFOs: It Has Begun
"This documentary came out in 1979 and features Dr. Jacques Vallee and is presented by Rod Sterling. Written by Robert Emenegger.Yes, its the same person who was pretty close to uncovering the reality behind the alleged reports about the landing of a UFO at Holloman AFB.
He also appears shortly in the one about the Presidential knowledge about UFO's, part of the History Channel's UFO Files Series! It's a pretty good video, and should definitely go into the video library of anyone interested in the scientific study of UFOs."
https://www.youtube.com/watch?v=phhGSqS3Wss
Anthony Woods UFO Encounter
"For the past few years Anthony Woods has somehow attracted UFOs on a scale unprecedented in history. Over one year in the making, this program tells the remarkable story of his efforts to record some of the most extraordinary UFO footage ever seen. This was the last film to be produced by Graham W. Birdsall, Publisher of UFO Magazine, UK. In Loving Memory of Graham W. Birdsall, 4/07/1954 -- 9/19/2003 and his contribution to UFO Research. The Journey: The UFO Case Of Anthony Woods."
https://www.youtube.com/watch?v=uUS2A0kxQ5E
Meer documentaires
Secret History Of UFOs
"From military reports and radar readings to pilot accounts and eyewitness testimony, sightings of Unidentified Flying Objects have captured the public's fascination for decades. Despite hundreds of photos and videos of purported UFOs, we still have no scientific proof we're being visited by extraterrestrials—Do UFO sightings deserve scientific study? Or can the phenomenon be explained."
https://www.youtube.com/watch?v=XuWscQZYKHs
Britain's Closest Encounters - Berwyn Mountain Mystery
"The opening instalment looks at an incident dubbed the 'Welsh Roswell'. In 1974, locals near the Berwyn mountain range experienced an earthquake and reported seeing green lights in the sky. Some have claimed that a UFO crashed into the mountain and that the government has tried to cover up the truth."
https://www.youtube.com/watch?v=rNR2M0eYsEQ
The Phoenix Lights
"The Phoenix Lights (sometimes called the "Lights over Phoenix") were a series of widely sighted unidentified flying objects observed in the skies over the U.S. states of Arizona, Nevada and the Mexican state of Sonora on March 13, 1997.
Lights of varying descriptions were seen by thousands of people between 19:30 and 22:30 MST, in a space of about 300 miles (480 km), from the Nevada line, through Phoenix, to the edge of Tucson.
Producers Lynne D. Kitei, M.D. and Steve Lantz present their Internationally award-winning film UFO buffs call it "the most documented unexplained mass sighting ever recorded.""
https://www.youtube.com/watch?v=5HUtPfoaiGg
The Roswell Incident
"The Roswell UFO Incident, also known simply as Roswell, was a report of an object that crashed near Roswell, New Mexico, in June or July 1947, allegedly an extra-terrestrial spacecraft and its alien occupants. Since the late 1970s the incident has been the subject of intense controversy and of conspiracy theories as to the true nature of the object that crashed. The United States Armed Forces maintains that what was recovered was debris from an experimental high-altitude surveillance balloon belonging to a classified program named "Mogul";[1] many UFO proponents maintain that an alien craft was found and its occupants were captured, and that the military then engaged in a cover-up. The incident has turned into a widely known pop culture phenomenon, making the name Roswell synonymous with UFOs. It is the most publicized and controversial of alleged UFO incidents."
https://www.youtube.com/watch?v=W8ljjE255u0
UFO Hunters - The Real Roswell
"UFO - The Real Roswell. New evidence suggests there was more than one UFO crash near Roswell. On July 8, 1947, an Associated Press news wire announced that soldiers from Roswell Army Air Field in New Mexico recovered a "flying disk" from a nearby rancher's property. The tiny town of Roswell has never been the same. Now, years later, new theories, new witnesses, and new evidence have emerged. The most shocking lead is that there may have been a second alien crash, and if it can be found, it may finally reveal what really happened at Roswell."
https://www.youtube.com/watch?v=jUvwpWBqclU
UFO Invasion At Rendlesham
"The Rendlesham Forest Incident is the name given to a series of reported sightings of unexplained lights and the alleged landing of a craft or multiple craft of unknown origin in Rendlesham Forest, Suffolk, England, in late December 1980, just outside RAF Woodbridge, used at the time by the U.S. Air Force. Dozens of USAF personnel were eyewitnesses to various events over a two- or three-day period. Some ufologists believe it is perhaps the most famous UFO event to have happened in Britain, ranking amongst the best-known UFO events worldwide. Along with the Berwyn Mountain UFO incident, it has been compared to the Roswell UFO incident in the United States, and is sometimes referred to as "Britain's Roswell"."
https://www.youtube.com/watch?v=kBU2UH43dTA
Alien Encounters From New Tomorrowland
"Robert Urich, the legendary Jim Street in 'S.W.A.T.', is the host of this voyage around the UFO's and its mystery. From New Tomorrowland, in Disneyland, Urich talks about UFO, contacts, evidences of its arrives, abductions, military documents and other things what surround this controversial thematic. From the 30's years until the present, the UFOs always have been there very close to us, everyday, every time. Exists the aliens?, in truth they come to the Earth?, could it be a fiction created by the military? And the last and most important question: if they exists, would they will be our friends...or our enemies?
This documentary was only broadcast once in five US states. It was shelved and never broadcast again. This version is the complete uncut feature, recorded on VHS video when it was first broadcast in 1995 on terrestrial TV."
https://www.youtube.com/watch?v=wKGyIbyo8iY
Unexplained Mysteries - UFO Best Evidence
"This documentary on The UFO Phenomenon aims to show that some UFOs may be extraterrestrial and that secrecy and ridicule are regularly employed to keep the truth about UFOs hidden."
https://www.youtube.com/watch?v=ckBYhAmF264
UFO Files - Brazil's Roswell
"An investigation into the 1977 reports of UFO activity over Colares, Brazil where locals were said to have been physically zapped by beams from flying disks over a period of two months, and the Brazilian government was said to have suppressed video and photographic evidence."
https://www.youtube.com/watch?v=0OwasBos8Dc
UFO Miracle Of The Unknown
"A complete investigation into the matter of unidentified flying saucers. Drawing from photos, film, interviews, and personal and government records, find out what there is to know about these mysterious stories of spacecraft and extra-terrestrial visitations. Includes "From Legend to Reality" and "Above Top Secret.""
https://www.youtube.com/watch?v=lSlBYrkDQDU
UFOs Are Real
"One of many 1970s UFO documentaries, this one features lots of still photos of alleged UFOs, some UFO motion picture footage, and the usual stock footage and images acquired from government and military sources. Among the many people interviewed are UFO researchers Stanton Friedman and Ted Phillips, UFO abductees Betty Hill and Travis Walton, optical physicist Bruce Maccabee, and retired U.S. military officers Jesse Marcel and Wendelle Stevens. The documentary supports the view that alien visitors regularly come to Earth and have perhaps done so for centuries."
https://www.youtube.com/watch?v=mQABJLJKLyQ