Deze pagina is in september 2012 geupdate

Al het materiaal op deze pagina bouwt voort op eerdere informatie over Ascension, Aliens, Disclosure en 2012, Illuminatie etc samengevat op de 2009 en 2010 David Wilcock pagina's op de Project Stargate website. Ben je daar niet meer bekend dan weet je in sommige gevallen niet geheel waar het over gaat als bv bepaalde vragen door een interviewer gesteld worden en is het aan te raden eerst op die pagina's te bekijken en beluisteren en bekend te worden met de eerder gepresenteerde informatie.
Boek: The Source Field Investigations
David Wilcock's nieuwste boek is uit: The Source Field Investigations - The Hidden Science And Lost Civilizations Behind The 2012.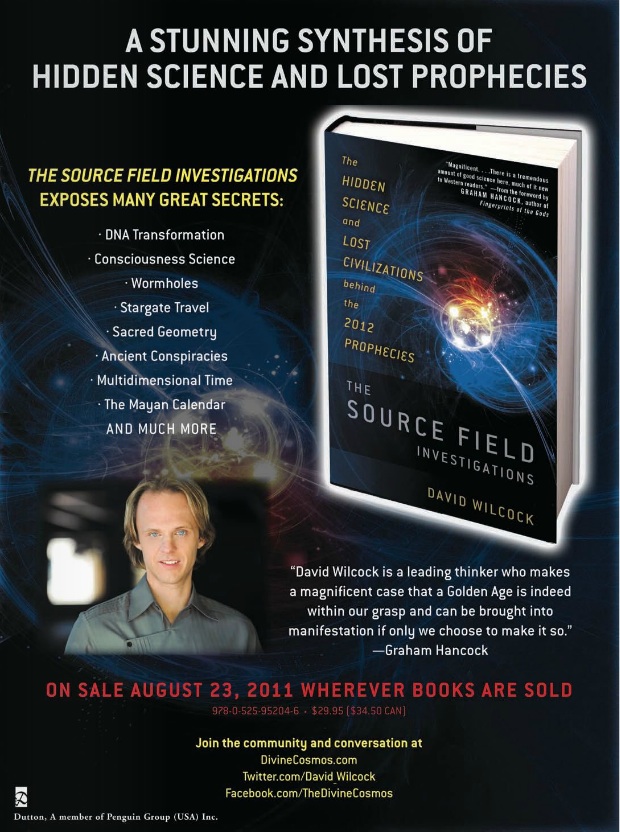 Beschrijving:
"If you believe there is no special significance to the year 2012, then prepare yourself for a guided tour through the most incredible scientific mysteries in the modern world, which may be the rediscovery of an ancient system of physics and spirituality that was once widely used and understood, but has since crumbled almost completely into ruin." -The Source Field Investigations.
In his documentary The 2012 Enigma-viewed more than two million times- David Wilcock exposed many great secrets: DNA, consciousness science, wormholes, stargate travel, sacred geometry, three-dimensional time, the Mayan calendar, and much more. And in this book, his seminal work, he'll expose even more.
Calling upon fascinating areas of alternative science, Wilcock's unique philosophy connects the human species and the rest of the cosmos, proposing that it is in our power to usher in the Golden Age prophesied in so many ancient cultures and spiritual traditions. Unlike the doom- and-gloom viewpoints depicted in big-budget disaster films, Wilcock believes that 2012 may be a watermark for when a widespread acceptance of a greater reality will begin to occur-and in his book, he lays out many of the blueprints for such a Golden Age."
Bron
Beschrijving 2:
"DNA is a product of a quantum energy wave, and is written into the basic laws of the Universe;
The laws that govern the formation of life on Earth also govern the behavior of matter and energy in the Cosmos;
The human design is intrinsic to this galaxy, and probably a good bit of the entire Universe;
Other humans have progressed much, much farther, spiritually and technologically, than we have;
Those humans colonized Earth in the times of Atlantis, and their skulls reveal brain capacities significantly larger than ours;
These people were largely wiped out by a self-inflicted cataclysm caused by nuclear war between rival colonies;
The survivors built pyramids to heal and stabilize the Earth on its axis in the aftermath of this catastrophe;
They had direct knowledge of a natural cycle that propels each inhabited planet through quantum evolutionary leaps;
They were aware of a physical gland in the human brain that governs ESP and is "activated" by this natural cycle;
They knew this galaxy-driven cycle had an exact end-point, measurable by a 25,920-year wobble on any inhabited planet;
They extensively encoded prophecies of this cycle, and its ultimate effects, in dozens of ancient myths worldwide;
They honor the Law of Free Will through most of a planet's evolution, but are allowed to re-appear at the end of a cycle;
The completion of the cycle creates an energetic springboard that gives humans remarkable "Ascended" abilities;
World governments are utterly incapable of interfering with this process, regardless of what they may try to do."
Het boek kan besteld worden op Bol.com
www.bol.com/nl/p/source-field-investigations/1001004011021079/
Radio interview over dit boek:
divinecosmos.com/podcasts/wilcock_hrtomind_110822.mp3
Introductie video bij het boek
"Did human extraterrestrials visit Earth -- and predict a Golden Age will culminate in the year 2012, freeing us from evil, fear and doom?
Did the founding fathers of America inherit this prophecy -- and encode it directly into the Great Seal of the United States? Why is there a pyramid with an eye inside a glowing triangle? Is Novus Ordo Seclorum quoted from an ancient prophecy text -- the greatest and most secret treasure of the Roman Empire -- predicting that humans on Earth will transmute into "light beings" and achieve Apotheosis -- where Man becomes God -- and the 'Gods' themselves return?
David Wilcock reveals the stunning scientific proof that DNA and biological life emerge directly out of the Source Field... a universal matrix of energy creating all space, time, matter, energy, biological life and consciousness -- and we are indeed about to experience the Greatest Moment of All Time. Learn about the pineal gland, Illuminati, government conspiracy, UFOs, DMT, the Mayan Calendar and more!"
David Wilcock: Occupy Your Self! Personal Spiritual Development