UFO's 3. Alien Abductions
Documentaire van 1 uur 50 over UFO ontvoeringen
This documentary explores the secrecy surrounding the greatest cover-up of all time, presenting an overview of the UFO phenomenon, aliens, abductions, disclosure, and hyperdimensional realities.
Engels - Crystallinks - Alien Abduction
"Often abductees are told that the experience is for some 'greater good'. Always remember that anyone who does anything to you without your permission - or makes your soul feel uncomfortable - does not have your best interests at heart."
Engels - The Grey Aliens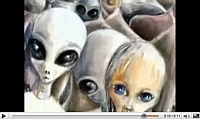 Mooi gemaakte documantaire van The History Channel over de Greys en hun betrokkenheid in de ontvoering van mensen. Totaal 5 You Tube filmpjes:
Part 1 | Part 2 | Part 3 | Part 4 | Part 5
Engels - The Story of Travis Walton
Documantaire met tussendoor stukjes verfilming van de ontvoering van Travis Walton. Er is ook nog een film van gemaakt genaamd Fire in the Sky. Die kun je hier kijken. Vooral het ontvoeringsgedeelte is wel beklemmender en minder prettig om naar te kijken, kan schokkende beelden bevatten en is zeker niet geschikt voor kleine kinderen. Je kan wel de 2 verfilmingen (het gedeelte dat hij in het ruimteschip is) met elkaar vergelijken en beoordelen welke 2 versies het dicht bij de werkelijkheid liggen. De ene is nogal clean en de andere vrij smerig.
Engels - Wiki - Alien abduction